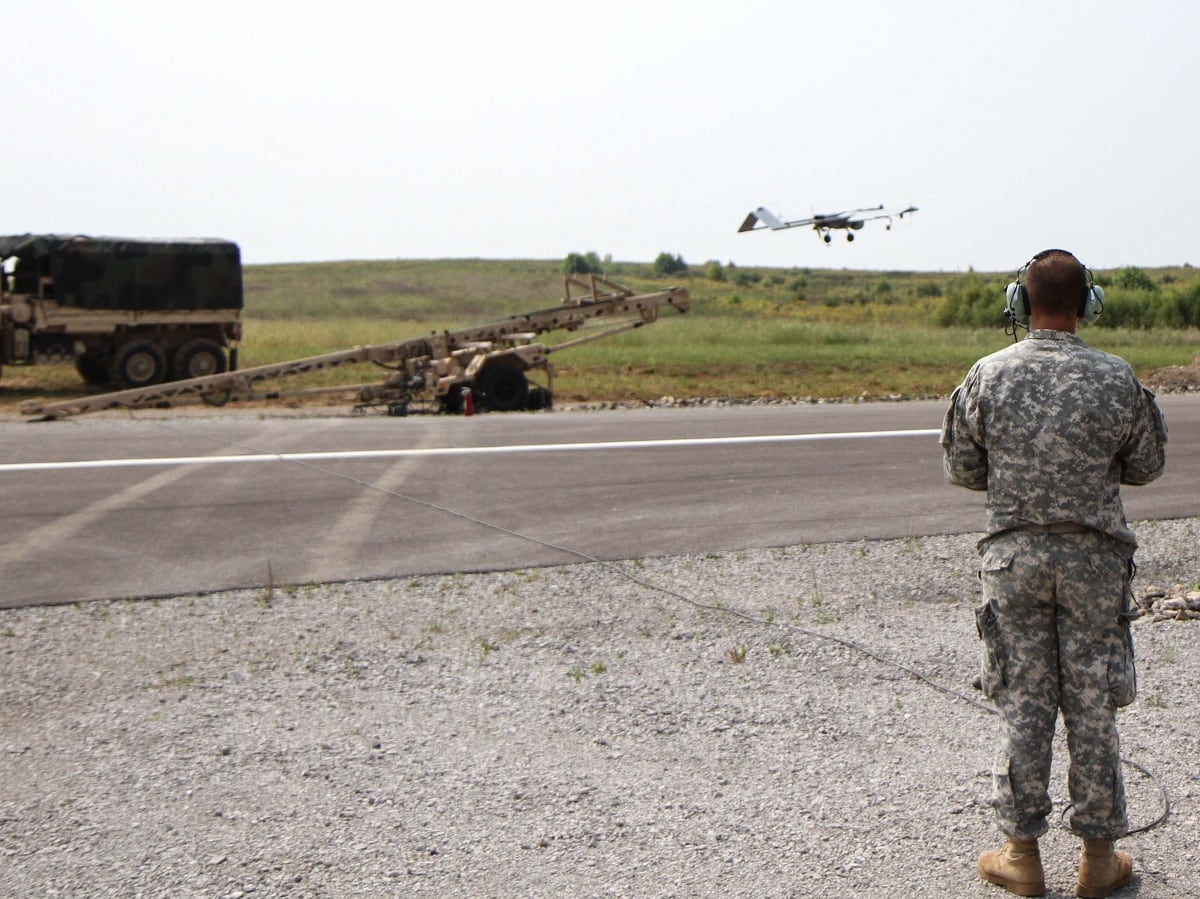 The Army is planning to move away from runway-dependent UAS like the Shadow for the future fight.(Spc. Brian Smith-Dutton/Army)
WASHINGTON — The one-star leading the Army's modernization efforts for Future Vertical Lift says the service envisions using its future unmanned aircraft systems for the "dull" and the "dangerous" work.
The Army doesn't just see its UAS teaming with manned aircraft like it does now with AH-64 attack helicopters and Shadow UAS, but envisions more advanced teaming than the current concept of manned-unmanned teaming — or MUM-T — allows, Brig. Gen. Wally Rugen, told a small group of reporters in a March 20 interview.
Rugen is the leader of the newly formed FVL Cross-Functional Team (CFT), that addresses the third top priority out of six modernization priorities the Army will take on under its new Futures Command. The command is set up to tackle the materiel requirements to modernize the force.
"That advanced teaming concept is just a deeper interoperability between the air and the ground, UAS that can do the dangerous work, that can do the dirty work," Rugen said, "also do the dull work." He added that UAS already do a lot of that dull work such as "persistent stare."
"Dangerous" for example, might be "something that can penetrate contested air space and target for long-range precision fires, provide that seed we need to flow through that where we can dominate a corridor or a window for a moment in time in a very contested environment," he said.
The unmanned systems would be there to conduct the dangerous breeches and help provide greater standoff for manned aircraft, but bringing weapons like Hellfire or its future replacement the Joint Air-to-Ground Missile (JAGM) closer in to the fight.
The Gray Eagle is already armed with Hellfire missiles but the Army has been hesitant to arm other drones and does not have a requirement to do so.
The Army, according to Rugen, thinks it will need a fleet of "purpose-built UAS," which means they will be created from conception with specific capabilities like electronic attack or other non-lethal effects or are designed specifically to function as a swarm whether it's to provide decoys or spoof the enemy.
Also the ability to launch a UAS from a manned aircraft or another UAS platform is another thing the service is looking seriously at, he said. "So you have some of these smaller form factors that present really great capabilities, but they don't have the legs to get to the tactical edge," but a UAS launched from a manned platform extends its reach, Rugen said.
The Army anticipates having to fight at great distances across more contested environments.
Another way of looking at the CFTs early plans for UAS, according to Rugen, is the Army wants these aircraft to be air-launched, UAS that are tactical in nature and other UAS with "advanced capability."
The Army envisions a tactical UAS for its Brigade Combat Teams and advanced UAS for its reconnaissance squadrons. UAS used for reconnaissance, security, target and aquisition (RSTA) capability now are very focused on using full-motion video, but Rugen said the focus in the future will be more focused on electronic warfare capability.
The service is engaged in prototype and demonstration for a Future Tactical UAS (FTUAS).
Source