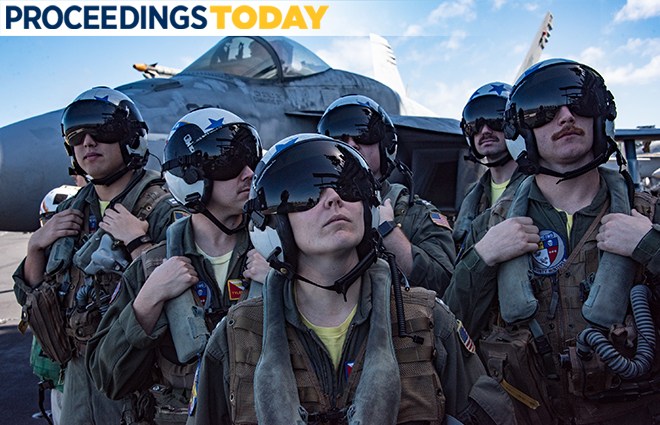 As a career naval officer, I respect and value Proceedings as a forum for enlightened professional discourse among the Sea Services, and I think such frank and open discussion is vital to the Navy's continued progress. I am delighted that young officers and enlisted professionals feel empowered to discuss complex issues here, and I think such discussion is important and always has the potential to yield positive results. In both this article and his previous article—"
To Fix TacAir Pilot Retention, Follow the Money
"—Lieutenant Commander Kochanski seems unaware of many efforts by the Bureau of Naval Personnel and Naval Air Forces to improve pilot retention.
I agree we were late to begin acting, but I think we do understand the problem. When aviation retention issues began to show in fiscal year (FY)17 (naval aviation met its FY16 department head numbers), the Chief of Naval Air Forces, Pers-43, N13, and BuPers-3 began a holistic examination of the force. Retention is, unfortunately, a lagging indicator, and what we found was that many contributors were cultural and administrative issues that remained outside the purview of the Bureau of Naval Personnel. Naval Air Forces continues to work these issues day and night. Using fleet feedback, we found that pilots tend to leave the Navy for three reasons: a lack of flight hours and the commensurate lack of warfighting emphasis, difficulties with work-life balance, and, increasingly, money. Money was not the most important reason cited for poor retention, but the percentage of aviators who mentioned it increased compared to previous surveys. We took this seriously and began developing a package of monetary and nonmonetary incentives to address the shortfalls. Both the Bureau of Naval Personnel and Naval Air Forces understood the problem then, continue to understand it now as it develops, and are taking a measured and deliberate approach to address it.
Almost every aspect of officer personnel management is governed by law, and it takes time to make change. In the case of the Aviation Bonus and Aviation Incentive Pay, we did what we could at the beginning of calendar year 2017: we increased bonuses with the funding available, using the existing structure, and we did it fast. We knew we were shooting behind the duck to some degree, but at the same time, Navy-wide, we were not in extremis for aviation department head numbers then. We knew, however, that we would be soon if we stopped at that point. So, we immediately began work on a restructured Aviation Bonus and Aviation Incentive Pay, which are now in the final stages of approval. We are improving all aspects of flight pay, providing as much as $1,000 a month (up from $600 a month), in a more flexible, merit-based system. We also are changing the Aviation Bonus, allowing up to $35,000 per year (the current statutory maximum) for applicable type/model/series–qualified aviators. Finally, we are reorganizing the command bonus to allow more money, earlier after an aviator screens for command. It will address many of the structural dissatisfiers with the past program, but it clearly will not be enough money to "buy our way out of this"—because, as Lieutenant Commander Kochanski points out, that can't be done. There are other factors at work.
I agree with Lieutenant Commander Kochanski's statement that problems with pilot retention take more than increased bonuses to solve. Money was not the primary driver for most aviators to leave the Navy. To build higher flight hours in fixed-wing tactical aviation (currently our most limited community), Naval Air Forces instituted the Rhino Readiness Recovery (RRR) initiative—targeting the readiness of F/A-18E/F aircraft hit hard by sequestration-induced budget cuts. Pilots want to spend more time in the cockpit, and increased numbers of ready aircraft are now beginning to provide more flight time and improve fleet readiness. Strike Fighter Wing Pacific in Lemoore, California, has the highest priority fill for maintainers, and we now track aviation experience more closely, enabling us to ensure they receive the best and most experienced type/model/series maintainers to increase ready aircraft rates. Fleet and type commanders work to reduce administrative burdens and the cycle of inspections that negatively affect pilots' time to operate. The Optimized Fleet Response Plan (OFRP) provides a more sustainable, lock-step training and certification plan that contributes positively to work-life balance and predictability.
On the manpower end, we've worked hard to deliver Sailor 2025 (S2025) to the fleet, which includes multiple avenues to gain additional education (including increased graduate education quotas to civilian schools), allows sailors to take time off from their careers using the Career Intermission Program, and allows increased opportunities to pursue personal interests outside the Navy. S2025 is how we are modernizing naval workforce policies and providing choices, career flexibility, and transparency. In February, I testified to the Senate Armed Services Committee on the Navy's view of the Defense Officer Personnel Management Act (DOPMA)—the law that governs the "up or out" officer career path model. We have been working to change that. We also are gaining wide support outside the Navy for options in the career path to send our best pilots to in-residence graduate education without penalty to their continued upward mobility.
There are several points in Lieutenant Commander Kochanski's article that lack sufficient context. My comments on "declining propensity to serve" were related to recruiting efforts, not retention. He also missed the context of my message on the bonus raises being "well received" after the quick fix in 2017, which was essentially that " we have a problem….more is needed ." We remain open and transparent with both the fleet and our civilian leaders and will continue to engage actively, listen to aviators, and meet retention challenges head on. The Air Boss and I talk frequently on this issue—there is no daylight between us—and we will continue to work hard to improve career opportunities and compensation for the naval aviation community.
Our people are the Navy's greatest resource, and I am committed to creating a climate of operational excellence. It is our shared responsibility to get the word out about policy changes, and to seek the most current and relevant information that affects our ability to do our jobs. Personnel policies matter to all sailors and their families. I encourage every Navy leader to read the NavAdmin messages, and go to
navy.mil
, the
CNP website
, the
CNP Facebook page
, or the
MyNavy portal
to find a detailed paper titled "Growing to Win: Sailor 2025." It talks about all these efforts in detail. Read, learn, and talk about where we are headed with your sailors. We will see many needed improvements to the Navy's personnel system in 2018, and we need the support and involvement of all our leaders to ensure we remain on track.