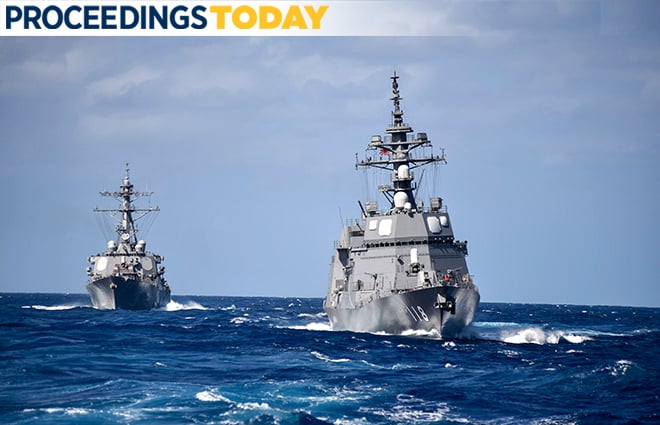 Chinese antiaccess/area denial (A2/AD) capabilities in the Indo-Pacific region are alarming. China seeks to wield its growing might to challenge the stable international order in the region with weapons that range from antiship cruise missiles to advanced submarines and even a rapidly growing and assertive coast guard.

Tensions have risen sharply in the waters near the Paracel and Spratly islands where China has built military outposts in an effort to fabricate sovereignty and negate the maritime claims of other nations. The operational environment of the region is changing significantly as China challenges sovereignty with its massive size and influence.


In the face of these challenges, Japan and the United States must cooperate together and with other partner countries to maintain a stable status quo in the region. The Joint Concept for Access and Maneuver in the Global Commons (JAM-GC) has been developed to respond to A2/AD challenges, improving on theformer Air-Sea Battle concept. [1] JAM-GC, however, provides new thinking and an operational concept which provides a credible response to Chinese A2/AD capabilities. The concept describes a set of requiredcharacteristics for the joint force to operate within A2/AD threats that include: distributable, resilient, tailorable, sufficient in scale, and ample in duration.

Current Operational Thinking

Milan Vego, a senior professor in the U.S. Naval War College (NWC)'s Joint Military Operations (JMO) Department, describes "operational thinking" as how each decision and actions of the operational commander contribute to the accomplishment of the ultimate strategic and operational objectives. [2]

Only operational thinking can counter Chinese A2/AD. One of the key terms commonly used in operational art is operational factors — time, space, and force . [3]

Because China has built a large force, Japan and the United States must employ a defense posture based on high quality (versus large quantities) by balancing appropriate operational factors.

At the same time, the geography of the Sea of Japan, East China Sea, and South China Sea is too large for a single force to maintain peace and stability. Force disparity, especially in terms of the number of Chinese forces, is too large. Only a high-quality force, capable of rapid reaction times, can overcome the disadvantages of space and force.

The operational objective is clear for Japan and the United States—to keep the Indian and Pacific oceans, including the most important sea lanes of the world, open, free, and under the rule of international maritime law.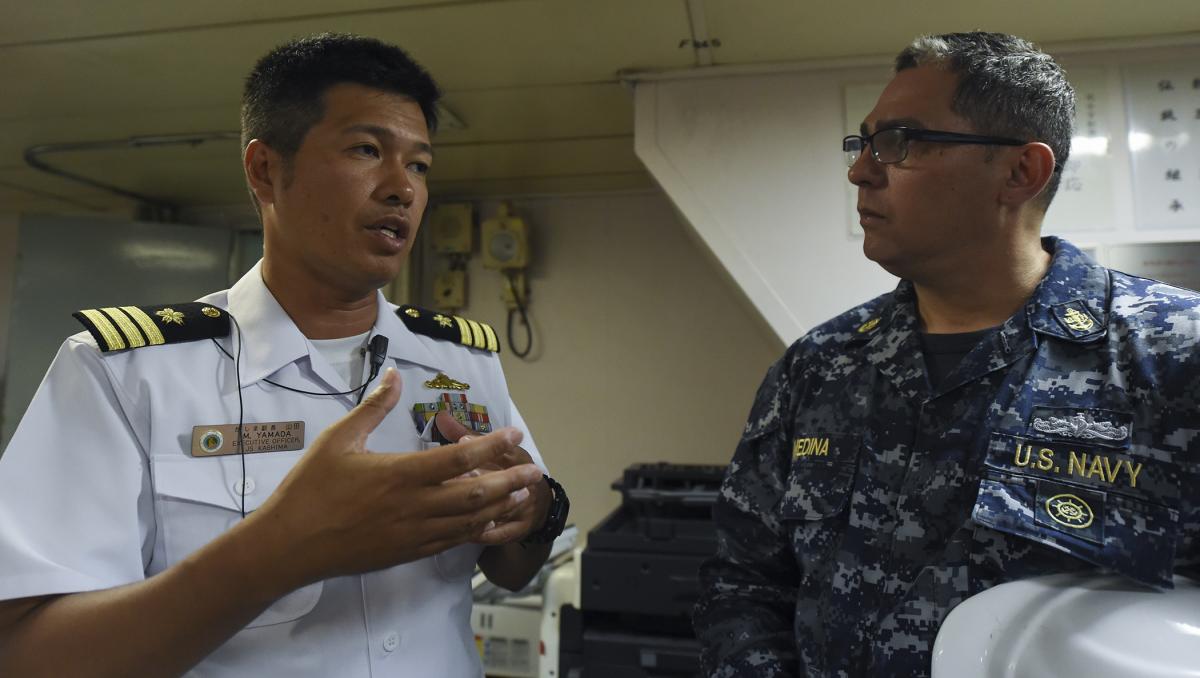 (Photo: JMSDF Commander M. Yamada, executive officer of JS Kashima (TV-3508), speaks with Chief Boatswain's Mate Americo Medina of Naval Station Newport during the Kashima 's visit to Newport, RI, in 2017. Courtesy U.S. Navy/Jess Lewis.)

Education and Training

For the U.S. Navy and Japan Maritime Self-Defense Force (JMSDF) to build a combined fleet that can stand against China's A2/AD threats, education and training are paramount. An increased emphasis on combined education and training will improve the quality of forces, reduce reaction times, and help the two navies develop effective coalition operations.

Education is the nucleus of creating a new operational idea. Critical and creative thinking, with open discussion, can create new operational ideas that can overcome current and future challenges. As the security environment is changing with technological advances, it is getting more important to have a sophisticated educational approach between the JMSDF and the U.S. Navy. From formulating new operational concepts to solving complex problems, there are advantages to working together in peacetime—before any incident or crisis—through war gaming and exercises.

Bilateral and multilateral training encourages broad participation. It also enhances skills and interoperability among allies and partner countries because practice in executing operational concepts is critical to mastering them. In addition, bilateral training conveys a political and diplomatic message that Japan and the United States are taking the challenge seriously and moving beyond rhetoric to actual preparation, which leads into maintaining readiness. Finally, it creates incentives for new operational norms and ideas.

Training can include traditional security training such as search-and-rescue, humanitarian assistance/disaster relief (HA/DR), and counterpiracy tactics that are effective and realistic ways to maintain a stable status quo with multilateral cooperation. Beyond these traditional mission sets, however, the JMSDF and U.S. Navy need to train together to counter high-end threats and master the concepts of the JAM-GC.

Skeptics may worry that preparation for a conflict with China will become a self-fulfilling prophecy, and hasten the day of a clash with China. In fact, the opposite is true. The skills and tools needed to defend the region can be exercised through a variety of existing peacetime missions and can be retooled to meet any challenge if Beijing should decide to embark on a more hostile course.

The increasing threat from China's provocative actions in the Indo-Pacific region makes partnership between Japan and the United States necessary and inevitable. Peter Dutton , the director and professor of the China Maritime Studies Institute (CMSI) at the Naval War College, proposes a "Power and Law" approach of building power and enforcing international law. [4] In addition, it is important to add "Trust" because maintaining regional and global engagement in a peaceful manner requires trust with friendly countries.

Countries with competing claims in the South China Sea should not wage a war over uninhabited islands. Strengthening multilateral education and training is the most powerful and realistic option in peacetime. Multilateral education and training produce trust. Trust creates tangible and intangible power to deter threats in the region.

It may not necessary to counter A2/AD directly, but enhancing bilateral and multilateral education and training in peacetime can prepare us if the need arises. Captain Richard LaBranche, former chair of the Joint Maritime Operations Department at the Naval War College said, "Training is preparation for the known; education is preparation for the unknown."

By focusing on combined education and training, the JMSDF and U.S. Navy can continue to preserve the peace and stability of the Indo-Pacific region while preparing for the known and the unknown.





[1] Sam LaGrone, "Pentagon Drops Air Sea Battle Name, Concept Lives On," USNI News , 20 January 2015, https://news.usni.org/2015/01/20/pentagon-drops-air-sea-battle-name-conc... .


[2] Milan Vego, Operational Warfare at Sea: Theory and Practice, Routledge, 2009, 203.


[3] Milan Vego, "Thinking Between Strategy & Tactics," Proceedings , Vol. 138/2/1, 308, p. 65.


[4] Peter Dutton, Testimony before the House Foreign Affairs Committee Hearing on China's Maritime Disputes in the East and South China Seas, 14 January 2014.

Top Photo : The Japanese Maritime Self-Defense Force Akizuki -class destroyer JS Fuyuzuki (DD-118) sails with the USS Curtis Wilbur (DDG-54). Courtesy U.S. Navy/Benjamin Dobbs.

Captain Shimodaira is a senior research fellow in the Security Studies Department and Policy Simulation Division at the National Institute for Defense Studies (NIDS) in Tokyo. The views expressed are those of the author and do not reflect the official policy or position of the Ministry of Defense or the Government of Japan.

USNI