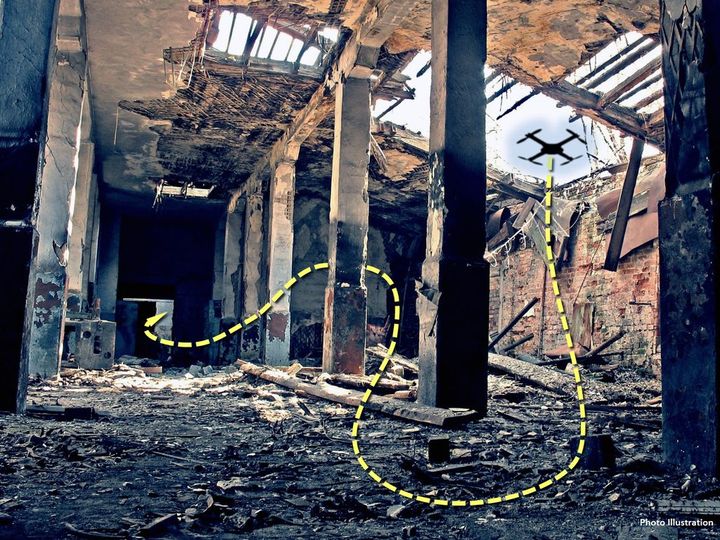 Most recently, DARPA's Fast Lightweight Autonomy (FLA) program completed Phase 2, which saw advanced algorithms turn a drone into an autonomous reconnaissance aid,

according to a press release

from the agency. The results saw a small UAV navigate narrow interiors in simulated urban environments, infiltrate multi-story buildings, create 3D maps of their interior, identify objects, descend stairways, and find open exits.

DARPA's researchers learned a lot from Phase 2 test flights in 2017, primarily that reducing the drone's weight while modifying onboard sensors for more accurate performance would be the only way to achieve effective, autonomous navigation of the above-mentioned environments. To help them do so, engineers from

MIT's Draper Laboratory

and the University of Pennsylvania lent a hand.

"This is the lightweight autonomy program, so we're trying to make the sensor payload as light as possible," said Nick Roy, co-leader of the MIT Draper Laboratory team. "In Phase 1 we had a variety of different sensors on the platform to tell us about the environment. In Phase 2 we really doubled down trying to do as much as possible with a single camera." The Phase 2 flights took place in a mock town in Perry, Georgia, which was comprised of partially destroyed buildings, roads and rubble.

During the demo, DARPA's FLA drone flew between multi-story buildings at rapid speeds, navigated narrow alleyways and windows, entered buildings, traveled down hallways, identified objects, descended staircases, exited through open doorways, and created 3D maps of everything it encountered. Frankly, the results are unbelievably impressive and terrifyingly ominous in equal measure.
thedrive.com